Expert Solutions to Improve Your Oral Health
At Area Oral & Maxillofacial Surgery, a full range of technologically advanced oral surgery services are provided for all ages. Some of the most common reasons to visit an oral surgeon include wisdom teeth removal (extraction), placement of a dental implant, or other surgical treatment, with or without IV sedation.
Dr. Mehrabi has many years of service and experience providing clinical expertise and excellent patient care. Our skilled Area Oral Surgery team is passionate about patient care, ensuring your complete comfort and safety during any oral surgery procedure in our Beaver Dam office.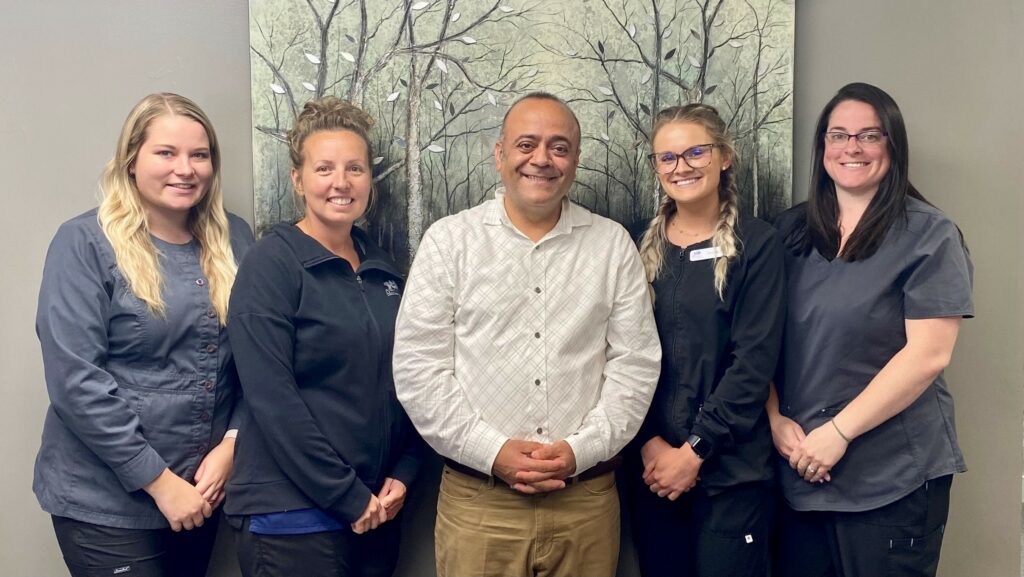 What is an Extraction?
When a tooth has decay, disease, or trauma and needs to be removed, that removal process is called an extraction. It is a relatively quick procedure that can be done with or without IV sedation based on your desires. Dr. Mehrabi has years of training and experience performing extractions safely and comfortably. With hours in Watertown and Beaver Dam, you will receive excellent care from our friendly, experienced team.
The benefits of an Extraction can include:
Pain relief by removing the source
Preventing the spread of infection
Providing room for healthy replacement teeth
Preventing problems with wisdom teeth
Bone Grafting
What is bone grafting?
Bone grafting is a surgical solution when a patient needs a dental implant or similar restoration, but doesn't have enough bone to support it due to atrophy or facial trauma. The procedure is designed to rebuild bone structure. By placing bone taken from a tissue bank or other part of your own body, Dr. Mehrabi can repair implant sites that have inadequate bone structure due to previous extractions, gum disease, or injuries. As always, your options will be discussed during treatment planning to ensure your preferences and goals are met.
When teeth are removed, the bone surrounding the supporting the teeth begins to deteriorate. The bone can also lose density due to age or disease. Ridge expansion is performed when the jaw is not wide enough or high enough to support implants. The bony ridge of the jaw is increased using special surgical instruments. Bone graft material is inserted and allowed to heal before placing the implant.
Oral Pathology
Signs and Symptoms of Oral Cancer
The mouth is an area where changes can be seen and oral cancer can be detected in early stages. Indications of oral cancer include: white patches of the oral tissues, red patches, a sore that fails to heal and bleeds easily, an abnormal lump or thickening of the tissues of the mouth, chronic sore throat or hoarseness, difficulty chewing or swallowing, and/or a mass or lump in the neck. If your dentist, hygienist, doctor, or you are concerned or suspect oral cancer, Dr. Mehrabi will help you navigate your concerns, assessment, diagnosis, and treatment planning.
Next steps
During the examination, Dr. Mehrabi will review your health history and assess for signs and symptoms of oral cancer. For abnormal findings, he will perform a biopsy. A biopsy involves the removal of a piece of the suspicious tissue. The tissue is then sent to a pathology laboratory to diagnose the problem. When the pathology report is sent back, Dr. Mehrabi will work with you, your dentist and/or doctor to help determine a specific plan for treatment.
Sinus Lifts
Why might I need a Sinus Lift?
Your maxillary sinuses are hollow channels behind the cheek and above the upper teeth. Some upper teeth roots extend into this space. If those upper teeth need to be removed, they often leave just a thin wall of bone separating the maxillary sinus and the mouth. The way to increase the amount of bone tissue in your upper jaw and support a dental implant or other restoration is with a sinus lift.
During a sinus lift, Dr. Mehrabi will enter your sinus from where your upper teeth used to be to lift your sinus membrane upward and insert donor bone into your sinus floor. After this heals, the bone becomes part of your jaw, and dental implants can be inserted.